Interview to Lorena Canals
Happy Rugs Collection
Oh Joy! and Lorena Canals join forces to create Happy Homes
Female Design Entrepreneurs to launch the NEW Happy Rugs Collection

When rugs start to make sense. #WASHABLERUGS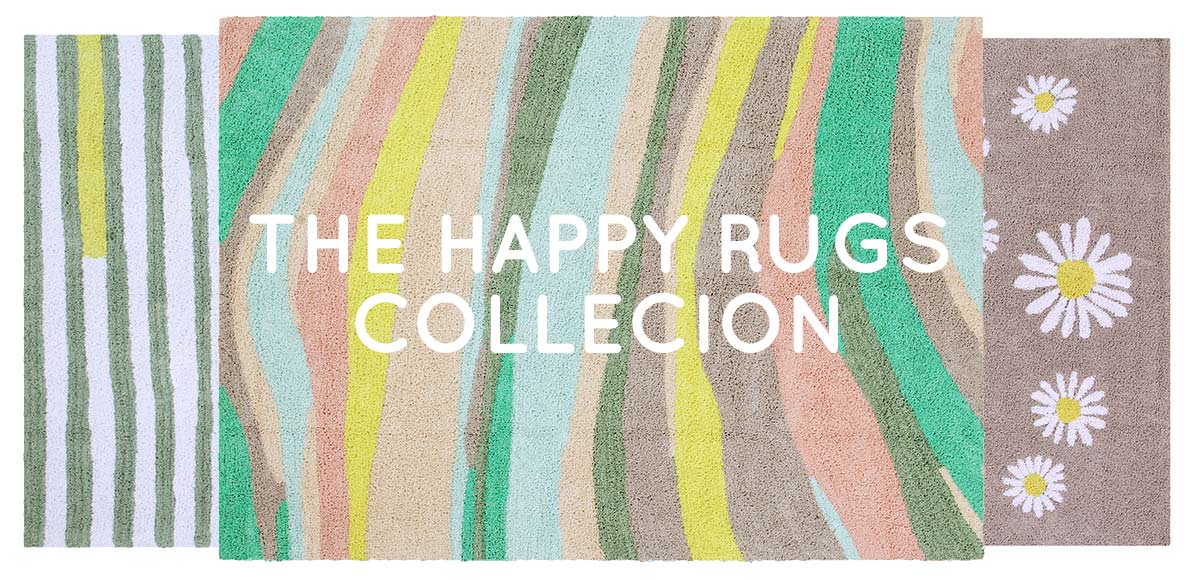 1. What was your reaction when you heard that Joy wanted to collaborate with you?
Honestly, I was super excited, over the moon really. We knew Joy for being a creative mind and a extraordinary designer, we also followed her steps on her blog and Instagram Account. A few months back she featured some of our rugs and accessories in her blog -- which we love -- and that's how we got to know each other a bit more. Personally, I think she is a great designer. A truly creative person who also has worked with amazing brands and major groups worldwide, and it was a real honor to be asked to work on a project together.
2. How has this mutual admiration affected the process of creating this collection?
When you work with a team such as Joy's, who are creative and professional at all times, you can't help it but feel a bit of pressure. The fact that she has work along a long list of professional designers has been on the back on my mind during the whole creative process and has made this challenge even more exciting for me. From the moment we first saw the designs, I knew it was going to be great fun because the entire collection is very characteristic of her label, the colors, the spontaneity of the patterns...When Joy does is have fun with things and you can feel that when you look at her designs. This collection is different to what we are used to in Lorena Canals and it is probably why we are going to enjoy it so much. It is 100% Joy's signature style.
3. This collection is made up of a total of 6 very colorful rugs. What would you say was the design that dazzled you the most?
As I said, it's a very unique style. It is not only different from our own, but it doesn't seem to follow any rules. When I design, I am true to my own creative voice, but also I try to keep in mind design trends, style needs and ideas that are "marketable" in a certain way. Joy's designs on the other hand are garish, colorful with thousands of fans. It is a collection that stands out and the name of the collection "Happy Rugs Collection" reflects this very well, each rug is very special. The design that amazed me most was the Happy Prism, which really conveys the concept of happiness and fun. In general, details like stripes, clouds, flowers and confetti, seen thought out these six design, aim to add a bright feature to any home.


4. What techniques have been followed for the production of this collection?
The Happy Rug collection uses 100% cotton tufted bases and non-toxic dyes throughout all our artisanal process. Those are pretty much the same techniques and production process that our Lorena Canals rugs undergo in our factories in India. Our products are sustainable, eco-friendly and on top of being handcrafted and incredibly soft they are also known for being hand-dyed following high quality standards. Their main advantage is how practical they are, need to clean them up? Simply put them in the washing machine and you get a rug that's as good as new.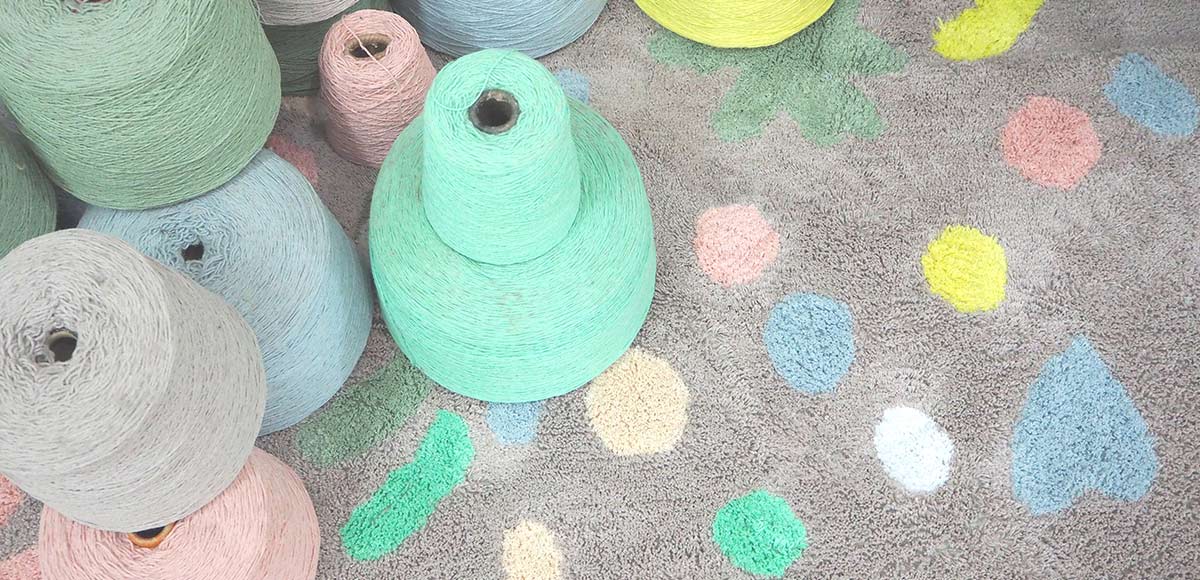 5. Whenever a collection is made, you like to travel to India to supervise the entire process
Yes, we went to India to see the designs, we always do it to see how the collections are turning out, whether there any adjustments to be made. Following up is very important. A design going into production is not the same as seeing it produced, the final finishes, the colors...I like to be part of every step of the process!
6. What did you feel when you saw Joy's satisfied face on seeing the finished collection for the first time?
Designing is an exciting process from start to finish but seeing something you created come to life is a fantastic experience. Joy has a lot of experience designing, not just textile so I wasn't sure what her reaction was going to be like, luckily she was very happy, very excited, she loved it! For a designer, when we work so much on a collection, there is this feeling that you can always be modifying the design, colors, and shapes. You feel like you might never finish. It is a similar feeling for me when I am designing my own collections. In the end, it's a huge satisfaction when you come on the other side of the production process. You can finally touch it and just thinking that it is going to fill homes all over the globe is a very rewarding feeling.