Zac4kids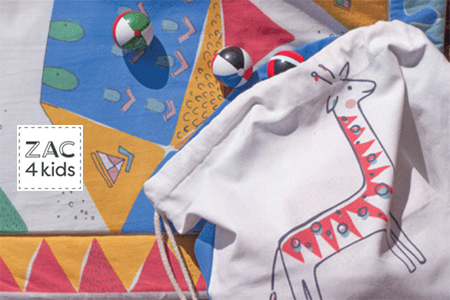 Zack4kids is an Italian brand thought to follow the everyday life of children and adults with accessories and home decoration solutions for youth. An amazing team who creates collections with a fantastic design, suitable for the whole family! All products, 100% made in Italy, are high quality products, specifically created for children both in terms of the materials, using specially selected cotton, and of the design, created by a team of young talents.
Collections are both aesthetically pleasing and practical. The PALIO collection is dedicated to the famous horse race of Siena. Its products, in fact, show race animals and contradas and they obtained the hallmark by the consortium. Zac HOME line offers textile decorations full of colour and fantasy! Finally, Zac SCHOOL line is dedicated to outdoor activities: cotton backpacks, placemats and bibs easy to carry and pretty to look at!
The brand result? Wonderful textile accessories realized through a social reintegration project. To share the Italian tradition done by history, quality and fantasy!