Kapla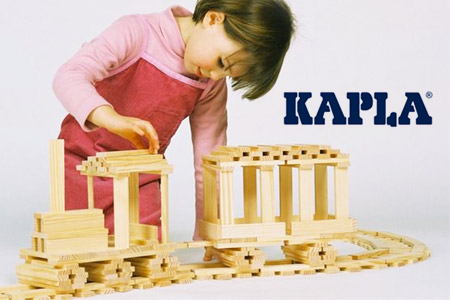 Born towards the end of the '80s from an idea by Dutch art historian and antique dealer Tom van der Bruggen, Kapla is a construction game for children of all ages: anyone will love playing it endlessly! Made from small all-identical pine wood pieces, the game lets you build objects of any shape and size just using your creativity and manual skills. No glue or tools needed: all pieces stay together only because of weight and gravity, so they are also reusable as many times as you wish!
Suitable from a very early age, Kapla is a great first introduction to the concepts of sculpture, arts, constructions, and architecture. The little ones will make paths and tiny streets, while more expert ones will build big and detailed projects such as houses, boats, animals and anything else they can think of!
Kapla is even used in French schools, for it is extremely educational and great to let people develop fantasy, manual skills, logics, spatiality and much more. A fun game to play with all family members!